Easter in Argentina is about chocolate. They may not dye eggs, or go nuts (like someone I know who knits Easter eggs lord help them) but they do know how to celebrate in style.
Santiago noticed the lack of robin-egg pout that had been hanging on my face for several weeks leading up to Easter and the day before he arrived with a large smile and an even larger chocolate egg filled with sweets. He had never heard of Easter dinner, apparently this isn't something they ´do´ at his house, but it worked out lovely enough as it was.
Along with his parents we went over to a friends country farm for a little lunch, and a lot of conversation. We dined on
pollo
a la
parrilla
(BBQ chicken) with nutmeg and lemon, egg wrapped in crocodile meat (yes, I ate it, it was good, white meat like chicken but slightly tangier, crocodile
isn
´t something you find on everyday restaurant menu, even in Argentina), garlic stewed potatoes, marble cake with orange glaze downed with several large glasses of Mendoza wine and champagne. Not bad for a ´non-Easter´dinner,
hmm
?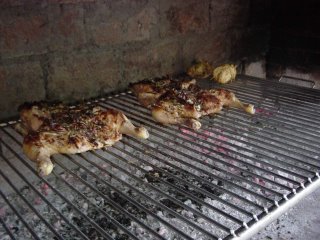 Argentina is very well known for their
parrilla
(
bbq
) cooking, though this is most defiantly a beef country, chicken cooked this way is sublime. The nutmeg and lemon give the chicken just a hint of freshness and the whole bird came out tender; the kind of meal you can only do justice by stuffing yourself silly, and then lying down for an extra, extra, long siesta (Santiago's father, as I found out, snores with quite a roar).
After a quick lay-down it was time to get friendly with some of the feathered friends on the farm. No, not the chickens....
This house was an animal lovers dream, and not for eating, these little birds are strictly for looking nice, but some of the smaller birds did make off with (and eat) the poor hostess´ car keys- second lesson of the day, Argentine birds with make off with your shinny goods for lunch, so keep your eyes open!
I am still waiting, eyes large with expectation, for grapefruit season. Looks like I still have a few weeks left though before I can bring some home. I did however, bring something home, a little bat-eared dog named Barro (Which means mud in English) who seemed to have taken a liking to the chickens on the farm as much as I have.